The Early Music Guild of Oregon is a non-profit organization founded in 1978 to promote the interest in, the study of, and the performance of early music, and to encourage the construction and use of historically accurate early instruments. EMGO sponsors concerts, workshops, lectures, master classes, and meetings open to all interested parties.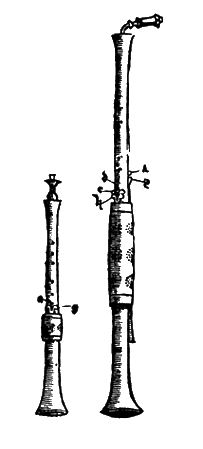 For federal tax purposes, EMGO qualifies as a tax-exempt organization under IRS Code section 501(c)(3).
You may make a donation to EMGO and receive a tax credit through the Oregon Cultural Trust. Donors to the Oregon Cultural Trust are eligible for a 100% tax credit for contributions for individuals ($1000 for couples filing jointly) and $2500 for corporations. In order to qualify you must also make a matching gift to EMGO in the same tax year. For more information or to donate online, visit www.culturaltrust.org.
EMGO Membership is open to anyone interested in early music.
Members receive discounts at all EMGO sponsored events, and a subscription to the EMGO newsletter, Olde Pitch.
EMGO members may also post notices on this web site of performances and other events. To post a notice, send it via email to neuman@emgo.org.
The Join EMGO page has a form for those wishing to join now.
Musica Maestrale
Details are forthcoming - see musicamaestrale.org
The Oregon Renaissance Band
will be performing with Eugene Choral Arts for their Mayfest on May 15 and 16, 2015 in Eugene. The festivities begin at 6:00pm both nights and include dinner, music and dance. Location: St. Paul's Parish Hall, 1201 Satre St, Eugene. See www.eugeneconcertchoir.org for details and reservations.
Ensemble De Organographia
will be performing a unique concert of Ancient Greek music on original instruments on Saturday May 30, 2015 at 6:00pm with a fabulous gourmet dinner at a stunning Portland home for Friends of Chamber Music's Dinner with Friends series.  See www.focm.org for details and reservations.
Dulcina
will be performing "Riches d'amour," music by Machaut, Du Fay, Agricola, Phinot, Attaingnant, and others on douçaines, vielles, rebecs, recorders, citoles, and bagpipes on Sunday May 31, 2015 at 3:00pm at Grace Memorial Episcopal Church, 1535 NE 17th, Portland.  Musicians: Laura Kuhlman, Aage Nielsen, Gayle Neuman, and Phil Neuman.  This is a fundraiser for the church organ restoration.
Portland Historical Oboe and Bassoon Festival
All concerts are $5 and will be held at First Christian Church, 1314 SW Park Ave, Portland, OR 97201.
The Cascadia Loud Band
performs "Love and Deceit," love songs and dances from the Renaissance on shawms, recorders, sackbuts and dulcians. June 19, 7:30pm
Oboe and Bassoon Faculty Recital
Featuring Portland Baroque oboist, Stephen Bard, and Juilliard faculty member, Dominic Teresi (bassoon). Solos, duets and trios for oboe, bassoon, violin, harpsichord and cello. June 22, 7:30pm
Festival Double-reed Band
Music for 5 oboes, 3 bassoons, and baroque guitar. June 24, 7:30pm
The Oregon Renaissance Band
The Oregon Renaissance Band is a 12 member ensemble dedicated to performing and recording music of the Renaissance, played on faithful reproductions of historical instruments. These include violins, cittern, lute, chitarrino, recorders, krummhorns, racketts, sackbutts, bagpipes, schreierpfeiffen, spinettino, and percussion, many of which were built by the performers. The Oregon Renaissance Band has presented concerts and workshops since 1991 and has been featured on NPR's "Performance Today." Their CDs with Ensemble De Organographia include "Now make we joye: Renaissance Christmas and other Celebratory Music" and "Carnevale! Carnival Songs, Frottole, Dances and other Festive Music of 16th century Italy." In 1998, ORB performed at the early music festival in Regensburg, Germany.
Ensemble De Organographia
Ensemble De Organographia, Philip and Gayle Neuman, specializes in the music of four different periods; Ancient, Medieval, Renaissance, and the 19th century, all performed on period instruments or accurate reproductions.   Their concerts are entertaining and informative, combining text and song to bring to life the musical art of the distant past.  They offer a comprehensive instrument lecture-demonstration to college music history and music appreciation classes.
The Cascadia Loud Band
The Cascadia Loud Band is a new ensemble that performs on several different combinations of instruments associated with the festive outdoor music of the Renaissance. The group's flexible instrumentation includes a number of possible combinations including 4 shawms (soprano, alto, tenor, bass), 2 shawms and 2 sackbutts, 2 schreierpfeiffen and 2 shawms, 2 bagpipes, or 4 recorders.